I was amazed when I first heard that I could be paid for liking a post! Not only that, there was a promise of receiving points while paying bills and to top it all: getting any information related to banking through just a tweet. It was all because one little innovation: Jifi, a new product launched by Kotak Mahindra Bank.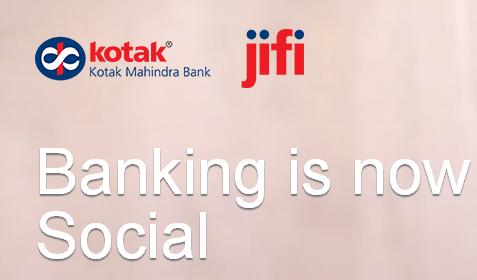 Kotak Mahindra Bank has launched Jifi, a fully-integrated social bank account with youth as the target segment. Jifi transcends digital banking by seamlessly incorporating social networking platforms such as Twitter and Facebook with mainstream banking. Jifi is a zero-interest current account with no minimum balance conditions, and can be opened with an initial payment of Rs 5,000. All balances over Rs 25,000 automatically move into term deposits at applicable interest rates.
Currently active in most metros i.e. Bangalore (Bengaluru), Chennai, Coimbatore, Delhi, Hyderabad, Jaipur, Kolkata, Lucknow, Mumbai and Pune, Jifi will be launched to other cities in some time.
Kotak Mahindra invited Indibloggers to experience Jifi firsthand at the live launch party across Mumbai, Delhi and Bangalore. Unfortunately, I couldn't make it but I made sure I followed Jifi thereafter, since new developments in banking that could help a self-employed author like me is always useful. I was dazzled by the features offered by Kotak's new JiFi, which I have listed below.

To know more about this account I recommend visiting the link

http://www.kotakjifi.com

or Kotak's corporate website

. Here go the features that are smart and easy:
Use twitter to request a cheque book, transaction history, account balance and lots more with just a tweet to @KotakJifi

Zero minimum balance, after all you start from scratch!

If your account balance exceeds 25,000; Jifi creates a term deposit of your spare cash so that you earn interest!
Get points (which you can convert to money) when you like, comment on Facebook. Social media addicts, you get paid for what you like to do.

Similarly, get points when you pay your bills online or rather perform any online transaction and earn points

Numerous benefits for sign ups:

Transferring your points: You can transfer your points to your friends, helping them in times of need.
Redeeming your points: Redeem your points on online shopping sites or dining destinations!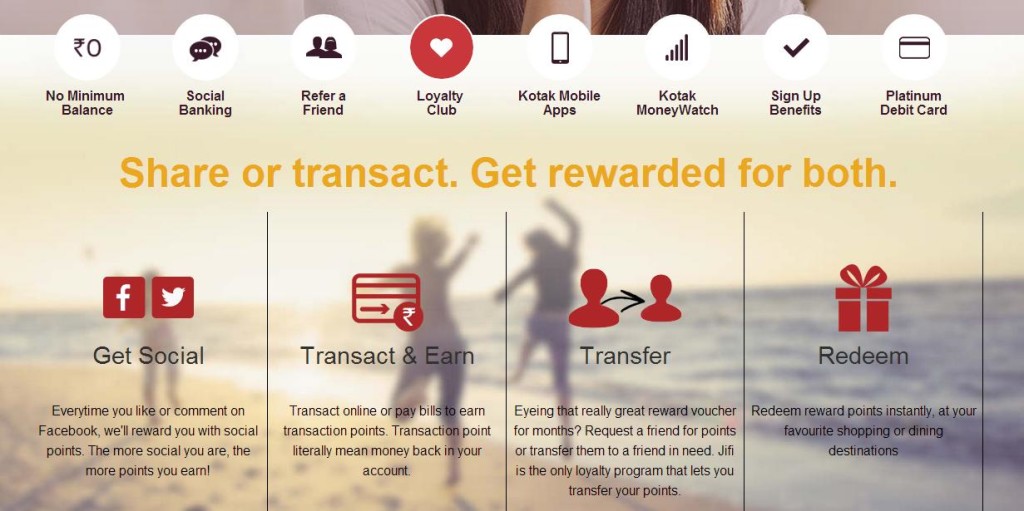 Mobile apps: Manage your Jifi on your Smartphone; you don't require a PC. Perfect for professionals who travel.

A Personal Financial Tracker

Kotak Moneywatch: Connect your multiple bank accounts and analyze your expenses at one go. Calculate tax, forward e-statements, categorize credit card transactions and mroe.

A Smart Platinum Debit Card: Jifi Debit Card comes with a host of premium benefits according to your requirements. It not only gives you a higher withdrawal limit at ATMs, but also looks good.JIFI Platinum Debit Card
To open a Jifi Account, all you need is an active Facebook id! In case, you do not have an active Facebook account, there's an option to get an invite through email. It's as social as it can get. Here's a link to the Jifi's website: www.kotakjifi.com/
2.

Log in via Facebook/email
JiFI is the new age banking and I am already a part of it. Are you?